NECK WARMER FOR PAIN RELIEF: Let our soft neck brace bring comfort to your tired muscles and massage away the tightness in your neck after a long day! It's as comfortable as a pillow and offers great support while sleeping. Finally, relax in peace!

HEATED NECK WRAP: Does your neck often feel stiff and sore? Now be free from your migraine or headache with our heated neck brace that includes heating pads with auto shut off large! Find neck relief with heat therapy that wraps you in warmth!

ADJUSTABLE AND SAFE DESIGN: Our heat neck brace is adjustable to 3 heat levels with a large heating pad that will suit anyone! The USB heating pad has an auto shut-off for optimum safety—don't worry about sleeping in our soft cervical collar!

PERFECT FOR TRAVEL: Our tech neck corrector is small with a heating pad but is portable and is usable in the office at work, at home, in sleep, or sitting in your car! You can feel snug and warm wherever you go—nurture yourself and relieve tension!

PERSONALIZED GIFTS FOR MEN AND WOMEN: Our universal unscented neck support brace makes a great gift for anyone—men, women, adults, and children alike! Whether family or friends suffer from whiplash, arthritis, or other aches, this brace works!
Find instant neck pain relief!
Does this sound familiar? You spend at least 8 hours a day sitting by a desk, plus another hour or two on commuting. Whether you sit hunched at a desk all day or sleep in a wrong position at night, your neck will be killing you by the end of the day.
Luckily for you, our heated neck brace is made just for you! It relaxes joint and muscle stiffness, better reduces your neck pain with comforting warmth, and increases blood flow to the affected areas for better healing. Wear it anywhere, anytime you want posture correction, no matter if you have tech neck, stiff neck, or neck muscle pain.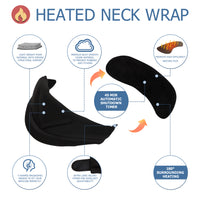 Product Specs
• Heated Neck Wrap
• Light Weight Foam Material With Strong Structural Support
• Premium High Efficiency Heating Film
• Low (85 ℉) - Medium (110 ℉) - High (130 ℉)
• 45 Min Automatic Shutdown Timer
Relief Back Pain with Heat Therapy
Three Temperatures: 85 °F, 110°F, 130 °F.
• Increases the extensibility of collagen tissues;
• Decreasing neck joint stiffness;
• Reducing neck pain;
• Relieving neck muscle spasms;
• Reducing inflammation, edema, and aids in the post acute phase of healing;
• Increases blood flow to the affected area to provide more proteins, nutrients, and oxygen for better healing.
Extra large heating area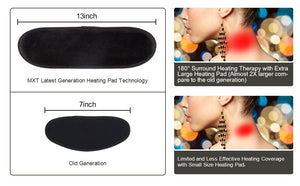 3 Heat Levels and Auto Shuts off
Automatically shuts down in 45 Min, safety guaranteed.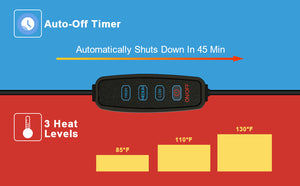 ---
Safety Warning:

-We recommend NOT USING the Heating Pad attachment while sleeping. The heating pad attachment needs to be monitored when using at all times.
---