We know back pain can be crippling, with muscles so tight you can't walk. Using our heated back stretcher with acupressure therapy and adjustable levels will help with relieving that pain and tension in your lower back after a long day sitting in an office chair. Our device is small and light, easy to carry and to use anywhere. Find comfort and release in your bed, car, or even your office chair. The posture corrector can even be added to your exercise or yoga routine to aid in your chiropractic treatment.
If you suffer from arthritis, sciatic nerve pain, a herniated disc, or other types of back pain, then the warming stretcher and muscle relaxer can help. The removable heated pad can help release your nerve and decompress your lower back.
Adjust between the three levels to slowly ease your back through stretching more, and eventually even fix the spinal alignment. In this way, our versatile machine will help improve your overall health, and with healing any issues ailing your aching back
Finally Get Rid of Your Back Pain and Discomfort!
• Ease your back pain and arthritis
• Warms and stretches tense muscles
• Realign your spine
• Reduce muscle tension and stress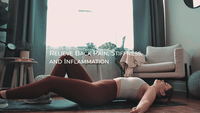 How Does It Work?
If you sit at a desk all day, suffer a back injury, are on your feet all day at work, or simply have lived with back pain for years, then our Heated Back Stretcher was made for you!
Back pain is a result of your spine decompressing—this means less space between the discs in your spine, causing strain and pressure on your nerves. Using our back stretcher, let gravity help decompress your spine. Our stretcher is small, portable, and durable, and easy to use from the comfort of your own home!
Achieve Remarkable Results!
Find relief from back pain without the nuisance and cost of going to a chiropractor. Just use our Heated Back Stretcher at least 10 minutes per day.
In just a few weeks:
• Back muscles will become less tense
• Corrected spine alignment
• Spine will regain natural curve

Spend less time suffering from back pain and more time enjoying life!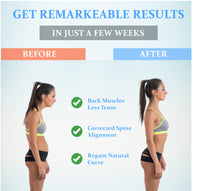 ---
Safety Warning:

-We recommend NOT USING the Heating Pad attachment while sleeping. The heating pad attachment needs to be monitored when using at all times.
---
Product Specs - Temperature, Capacity, Heights, Material
• Reach up to 158 °F and fast heating
• Three adjustable heights: 2.5 inches, 3.5 inches, 4.5 inches
• Acupuncture pressure points
• Silk touch padding
• Suitable to up to 250 lbs individuals

Relief Back Pain with Heat Therapy
Five Temperatures: 86 °F, 104 °F, 122°F, 140°F, 158°F
• Increases flow of oxygen, nutrients to the muscles
• Decrease transmissions of pain signals
• Decrease in stiffness and injury, increase in flexibility and overall feeling of comfort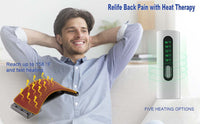 Three Different Positions for People with Different Stretching Needs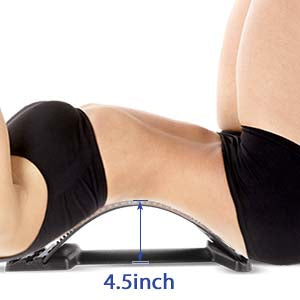 How to Use It - Demonstration